Installing Vinyl Graphics for Bellevue Vehicle Advertising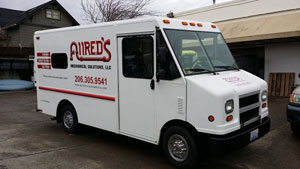 Every business in Bellevue, WA benefits from the economical and result-oriented advertising offered by car & truck graphic installs.
Installing vinyl graphics detailing company name, logo, product/services and contact information on company vehicles makes a brand instantly and prominently visible.
Moreover,
• Installing vinyl graphics gives a commercial fleet a consistent look
• Installing vinyl graphics on business vehicles builds a professional image
• Car graphic installation helps a business in sustained brand building
Car & truck graphic installs maximize exposure for Bellevue businesses at negligible per impression cost. Car graphic installation generates such amazing impressions daily that car & truck graphic installs have become an indispensible part of marketing strategies.
Indigo Vinylworks is a car graphic installation expert that can help Bellevue businesses outpace the competition. By installing vinyl graphics on vehicles, we make sure companies use their assets for effective marketing and advertising.
Car Graphic Installation Services for the Bellevue Area
Great car graphics are of no use without equally great car graphic installation.
Installing vinyl graphics on vehicles is very specialized work that Bellevue vehicle owners cannot trust to just any sign shop. They should use our car graphic installation services if they want impeccable car & truck graphic installs.
We can handle car graphic installationprojects of any size. Our technicians are highly trained in installing vinyl graphics and have proven their skills over countless seamless car & truck graphics installs in Bellevue.
They ensure precision in car graphic installation by focusing on:
• Correct surface preparation
• Accurate positioning of graphics
• Use of the right procedures and tools for installing vinyl graphics
Why Choose Us for Car & Truck Graphic Installs in Bellevue?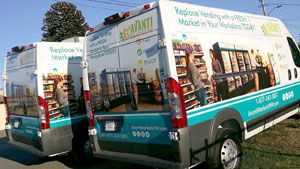 Our car graphic installation company is committed to delivering high-quality car & truck graphic installs for Bellevue customers.
We work with our expert in-house installers as well as certified professionals from a reliable network of car graphic installation experts to ensure perfection in installing vinyl graphics on Bellevue vehicles.
We strive to complete all car graphic installation jobs to high standards of excellence. Our Bellevue customers for car & truck graphic installs can count on us for:
• On-time, reasonablypriced car & truck graphic installs
• Brilliant craftsmanship in installing vinyl graphics
• A cohesive team installing vinyl graphics smoothly, withoutany hassle
• Highly-satisfying car & truck graphic installs
Bellevue residents should choose Indigo Vinylworks for installing vinyl graphics on their vehicles and enjoy optimal returns from their car & truck graphic installs. Call 425-278-4411.